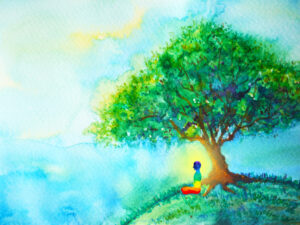 We offer a range of holistic courses. Holistic Healing is a method of therapeutic approach that treats the whole person rather than just one aspect of a health condition.  The power of taking a holistic approach is that the practitioner can sense more deeply into the root cause of an ailment to treat the source of an issue across all aspects of being: physical, emotional and spiritual.  When we approach healing from a holistic perspective, the results are comprehensive and long lasting.  
Julie's holistic courses offer instruction, training and mentoring in the practices of Family Constellations, Consciousness Medicine and Business Coaching. Julie Williams facilitates the holistic courses, bringing together her skills as a natural medicine practitioner, scientist and clinician.  Students love her courses and return again and again to build their skills, knowledge and to receive mentoring along the way.  
Our holistic courses will support you in becoming a certified practitioner or levelling up your current practitioner skills with CPD credit
Family Constellations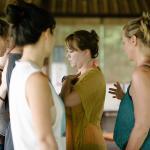 Work is a systemic therapy that releases the ancestral entanglements to suffering that affect our health and wellbeing.  Julie has been facilitating the work since 2009, and has run practitioner certification programs for 15 years.  
She also has created video courses, Movements of the Family soul, for on demand study at your own pace that teaches the principles of the work and how to practice it.  These Family Constellation holistic courses offer a personal transformation that in unparalleled by any other therapy.  Many of her students have gone on to become Family Constellation facilitators as well as integrating the work into their own holistic therapy practices.
Consciousness Medicine (CxM)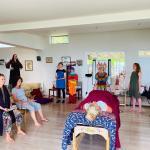 is a powerful natural healing approach developed and practiced by Julie.  She runs online and in person holistic courses for all levels including CxM Foundations, Advanced and Masters.  In 2000, the first class of 200hr certified Consciousness Medicine practitioners graduated and continue their learning through CPD (continuing professional development) CxM Master Classes.  
Many students begin with the Family Constellation practitioner training and continue on with the Consciousness Medicine practitioner training, as these courses complement each other beautifully.  Her students love her ability to explain abstract and complex concepts clearly and with humour that makes learning fun.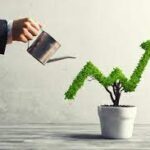 Julie's newest holistic course, Thrive Your Business, is currently in the final stages of development and will be released soon.  It is designed to help you create, build and maintain a successful business doing what you love.  It uses 11 main steps that guides you to take a closer look at all aspects of business and your relationship with yourself.  
Julie spend over a decade working in corporate America in pharmaceuticals, life sciences and clinical studies.  She worked her way up from a genetic researcher to managing the bioinformatics division of a multi-billion dollar company.  Her experiences through her corporate journey created a strong foundation for her thriving holistic healing business.   Her business coaching skills assists her clients in releasing their personal blocks so that they may manifesting their goals easily and abundantly.
We offer holistic courses online, on-demand and in person for personal and professional development, supporting all skill levels from beginner to expert.
Current Programme 2022
Holistic Courses: Online, On-Demand and In Person
Movements of the Family Soul Family Constellation FOUNDATIONS COURSE. This...

Movements of the Family Soul FOUNDATIONS & ADVANCED Course Bundle....

Movements of the Family Soul Family Constellation ADVANCED COURSE. This...

Learn this powerful modality of healing, developed by Julie Williams,...

Continue your learning and grow your skills in CxM in...

Continue to grow your Consciousness Medicine practitioner skills with this...